Last Updated on Tuesday, 09 March 2010
Long weekends are great for short trips, and short trips are great for museum-going. My husband and I are a little bit ADD when it comes to traveling, and since we had 3 whole days to see the sights this weekend, we manned up and pulled a Planes,
Trains
Buses and Automobiles.
First, we flew to Baltimore to visit a friend who works at the Baltimore Museum of Art. We ate food and shopped, and walked past Charm City Cakes. I think we even saw Duff skulk out the back door in disguise as a motorcyclist (visor down) and hop on a Ducati!
Since my buddy works at the BMA, we had to check it out. First of all, the BMA is free. I can't stress this enough. Free. All the time. They have a number of recognizable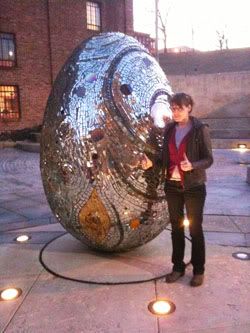 pieces including one of Rodin's The Thinker, and some brilliant works of Impressionism from Matisse and others in their large Cone Collection.
It was closing weekend of their Edgar Allan Poe: A Baltimore Icon exhibition, so we checked that out. It featured some cool portraits, as well as manuscripts, plates from old editions of his books and other works of art inspired by his creepy tales. What I like best about the BMA is what I read about their programs - yoga in the sculpture garden, art workshops, etc. If you get a chance to go to Baltimore, check out their events beforehand and see if you can take advantage.
We also visited the AVAM (American Visionary Art Museum), which is all-folk-art-all-the-time. I enjoyed it immensely and wish I could have stayed longer to read every single label and every letter on every work of art. A caveat: Don't you dare go in there with the "I could do that" mindset, because you'll ruin it for yourself. Just drink in the colors, the words and the ideas and minds behind them. I promise you'll enjoy it.
Some other great things about AVAM: The giant whirligig and sculpture plaza, The Tall Sculpture Barn, and the Kinetic Sculpture Race. I won't even try to explain. You should just go.
Then, we hopped a bus to NYC, because once you're that close to the city, why wouldn't you just keep going? We had to anyway, because the Museum of Modern Art is hosting a special exhibition that features the work of Tim Burton.
Yes. That Tim Burton.
As avid movie-watchers and huge fans of animation, puppetry and general weirdness, traveling to New York to see an exhibition based on the art and films of Tim Burton was pretty much a no-brainer. Most museums will fancy up an exhibition title with a colon and a subheading, but with Tim Burton, I think it's easy to see that there's no need.
We woke up early after a late night to be sure we made it to MoMA when the doors opened, to be the first through the giant mouth. (No seriously, the entrance to the show is a crazy mouth.) Good thing we did too. I started out reading every stitch of label and every handwritten note from Burton's childhood, and quickly realized that my empty gallery was being overtaken by zealous fans and their children whose saucer eyes got bigger and bigger as they approached the creepy drawings and bizarre figures.
As I looked up and realized that the small gallery contained no fewer than seven hundred examples from Burton's illustrious career, it occurred to me that I'd need to pick up the pace if I wanted to see the whole show before my claustrophobia kicked in.
The show is arranged (mostly) chronologically, and begins with Burton's childhood in Burbank, Calif., where he doodled on notebooks, organized horror film festivals and entered art contests (and won). It moves through his art school days and his quirky video projects. On one wall you'll see a creepy video of live-action Hansel and Gretel, supplemented on the other by at least 30 related character studies.
Moving forward through time, you get to see Large Marge's eyeballs, a Beetlejuice sandworm, storyboards from many films including Sleepy Hollow and Mars Attacks, and other memoribilia like Edward Scissorhands' bodysuit and helmets from Planet of the Apes.
Although the memorabilia is you know, awesome, the really amazing parts of the show are his detailed character drawings. As you walk through the exhibition, you start to see how his style developed, and how bits and pieces of a drawing from the 70s found themselves filling out a character in A Nightmare Before Christmas or the Corpse Bride. The show is open through April 26. If you have the means to get up to New York, please go see this show. It was worth the trip, 2-hour flight, 3 hour bus-ride and all.
Even though we probably did too much on this trip, we managed to balance it with do-nothingness. In fact, I even had time to veg on the sofa and watch Season Two of True Blood on demand.
Between Poe, Burton and vampires, I guess we filled our spooky quota, no?